Edible Landscapes Project
Greenville is delighted to support The Edible Landscape Project, apple and nut tree planting project at Rice College Westport, County Mayo. Students learned about the connection between food choices and climate change, the planting of fruit and nut trees, soil types, location, and the correct time of year to plant. "We could not have completed the project without the support from Greenville and others" Dave Whelan, Edible Landscape Project.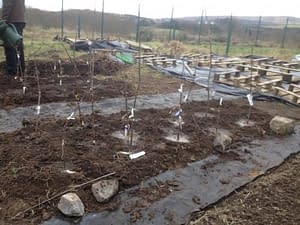 The Edible Landscape Project educates people about the intrinsic relationship between climate change and their food choices. The Edible Landscape Project's aim is to empower individuals and communities to take care of nature and protect the planet by building local food security and climate resilience. They are achieving this through education and network building, advocating for policy change, building community consensus and embedding practical, land-based food solutions, for the local environment.
They provide climate awareness training, an innovative podcast series and targeted education workshops on topics such as tree grafting, planting and pruning. Overall, they offer a different way to think about our individual and community food systems. Find out more about their initiatives here.